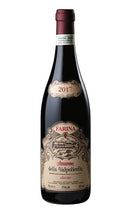 Superbe wine, pride of Valpolicella Classica, born from the careful selection of grapes dried in the typical fruit drying sheds for about 4 months. The meticulous care of the grapes during the drying and the right maturation first in barriques and then in Slavonian oak barrels, develop complexity of scents and flavors. Elegant, smooth, balanced, it expresses tradition, terroir and passion.
50% Corvina, 20% Corvinone, 20% Rondinella, 10% Molinara, Oseleta and Turchetta San Pietro in Cariano
North/South-West, 300 m a.s.l. Volcanic-Calcareous-Gravelly
Veronese pergola, 3500 vines/hectare Manual selection and harvesting of the grapes starting from mid September
Natural overripening of the grapes for around 120 days in fruit drying sheds, with loss of 40% of their weight and sugar increase, many biological variations in the grape (resveratrol production, glycerine, etc…). Pressing and destemming of the grapes around mid January. After ten days of cold maceration, yeasts injection on a small heated quantity.
Fermentation temperature controlled by mother nature, repeated pumping overs, soft almost till dry, final racking. After two more cleaning rackings, 24 months maturation, 30% in barriques, 70% in Slavonian oak barrels, following evolution in the bottle.
Ruby red colour with garnet tinges. Ethereal, spicy, with cherry hints, sour cherry, raspberry, currant in alcohol, cocoa and balsamic notes. In the mouth is warm, full, of great structure, fine and balanced.
Alcohol: 15,34%
vol. Sugar: 6 g/l
Total acidity: 5,80 g/l Volatile Acidity: 0,62 g/l
Dry extract: 33,70 g/l
0,500 / 0,750 / 1,500 / 3,000
Excellent with game, roast meat and mature hard cheeses
Comprar en The Winery Outlet es aún más fácil. 
1. Compre en línea
Agregue los artículos a su carrito que le gustaría comprar.
2. Elige "FREE PICK UP STORE" 
Elija "FREE PICK UP STORE" en al momento de pagar su compra en el Checkout. 
3. Recoger en la tienda
Le enviaremos un correo electronico cuando su pedido esté listo para ser recogido.
Si compras más de $150, ya sea en línea o por teléfono, su pedido se entregará sin cargo en todo Puerto Rico
La entrega gratuita solo se aplica a los pedidos enviados a una dirección de entrega a través de la entrega estándar. La entrega gratuita no está disponible para mismo día. Las entregas se harán en un máximo de 72 horas.
Payment & Security
Your payment information is processed securely. We do not store credit card details nor have access to your credit card information.