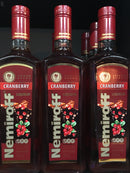 The vodka, Vodka Nemiroff Cranberry , is produced by Nemiroff Vodka with origins in Ukraine with an alcohol content of 21%. Drinks&Co users give this Vodka Nemiroff Cranberry 4 of 5 points. Vodka Nemiroff Cranberry TASTING NOTES: Color: Vodka Nemiroff Cranberry has an intense red color. Smell: Fruity aromas. Taste: Made from hand-picked cranberries in the remote swamps of Siberia; and a special touch of cognac Crimean 4 years old, this drink is obtained as surprising.
Comprar en The Winery Outlet es aún más fácil. 
1. Compre en línea
Agregue los artículos a su carrito que le gustaría comprar.
2. Elige "FREE PICK UP STORE" 
Elija "FREE PICK UP STORE" en al momento de pagar su compra en el Checkout. 
3. Recoger en la tienda
Le enviaremos un correo electronico cuando su pedido esté listo para ser recogido.
Si compras más de $150, ya sea en línea o por teléfono, su pedido se entregará sin cargo en todo Puerto Rico
La entrega gratuita solo se aplica a los pedidos enviados a una dirección de entrega a través de la entrega estándar. La entrega gratuita no está disponible para mismo día. Las entregas se harán en un máximo de 72 horas.
Payment & Security
Your payment information is processed securely. We do not store credit card details nor have access to your credit card information.