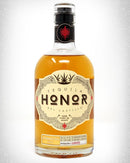 AFIRMACIÓN (AÑEJO) Who is Afirmación: You exhibit control and you recognize that what has value in this life requires dedication and patience. You never look for shortcuts, because you know that wisdom isn't a destination, it's a journey. Your experiences affirm you who are. You know what the best is and you deserve it. It's time to enjoy your success. Flavor & Aroma: After three years of preparation, tasting and fine tuning by Kate and her team,
The Limited Edition Tequila Honor del Castillo Afirmación is a unique and very special and Añejo blend. The first Limited Edition batch was aged with a blend of 15 different white American oak barrels with an average age of 15 to 18 months. At sight it delights us with a natural yellow wheat color with dark soft tones. Its nose is clean, slightly opening its sweet notes and dry aromatic chocolate, cinnamon and vanilla. Per its medium toasted barrels, it also invites flavors of cooked agave, leaving residual soft tones of coffee.
Comprar en The Winery Outlet es aún más fácil. 
1. Compre en línea
Agregue los artículos a su carrito que le gustaría comprar.
2. Elige "FREE PICK UP STORE" 
Elija "FREE PICK UP STORE" en al momento de pagar su compra en el Checkout. 
3. Recoger en la tienda
Le enviaremos un correo electronico cuando su pedido esté listo para ser recogido.
Si compras más de $150, ya sea en línea o por teléfono, su pedido se entregará sin cargo en todo Puerto Rico
La entrega gratuita solo se aplica a los pedidos enviados a una dirección de entrega a través de la entrega estándar. La entrega gratuita no está disponible para mismo día. Las entregas se harán en un máximo de 72 horas.
Payment & Security
Your payment information is processed securely. We do not store credit card details nor have access to your credit card information.